When I came to Spain, one of the things I was determined to do was to go to flamenco classes.
Before I left Australia, my teacher recommended a school in Madrid called Casa Patas. Here's their website. She also suggested that I join the lowest level class possible, to save my sanity (and to prevent making an absolute fool of myself, I'm guessing).
So, I sent them an email, and they replied, saying there were a few vacancies in the Thursday night beginner class. Yay!
The only problem was, I had left my shoes and skirt in Australia (despite the fact that my two bags were overpacked, I have still discovered that I left a whole lot of useful things at home), which necessitated a trip to one of the many flamenco dance stores to purchase some replacements yesterday. An hour later, and considerably poorer, I found myself the proud owner of a pair of bright red shoes (the only ones in my size- why are my feet so big?!) and a fishtail skirt, which the woman in the shop assured me was the latest fashion (although I do get the feeling that she may have just being trying to make a better sale).
My pretty shoes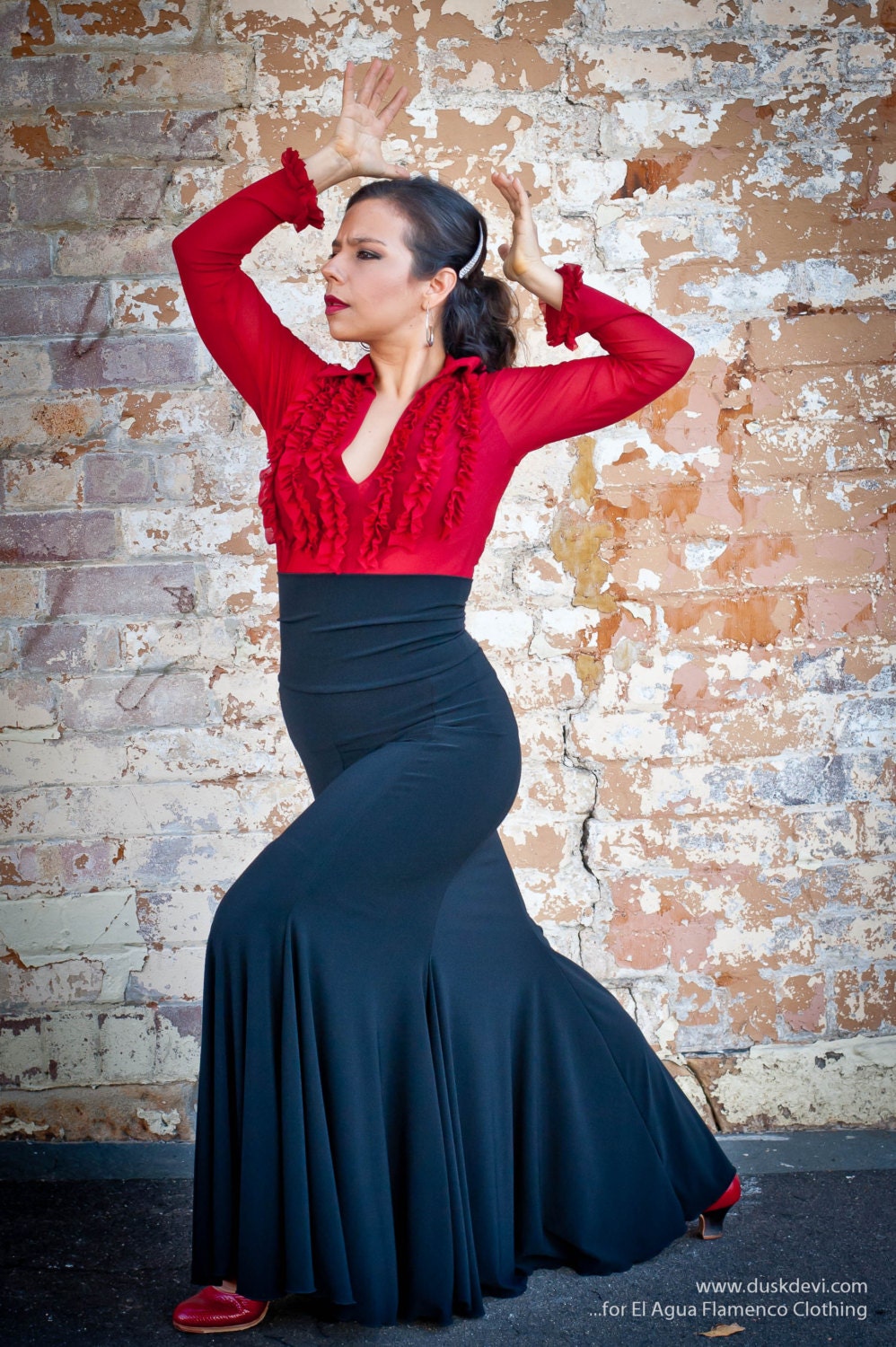 My skirt is like this. I don't look like this.
This afternoon, at 5:15p.m., flamenco attire at the ready, I headed to Casa Patas, and, in garbled Spanish, managed to explain that I wanted to attend a casual class. The only problem was, the receptionist didn't tell me where the class actually was. So, I wandered around, peering into rooms, with no success. Eventually, I stumbled upon an electrician, fixing the lights, who took me back to the counter, and asked the receptionist where to go. The receptionist was very cross, which was a bit unfair, as it was her who hadn't given good instructions in the first place! "She doesn't speak any Spanish," she growled at the electrician, then, turning to me, snapped "Follow him. He's the teacher", as she gestured at a man quickly walking past.
This was the teacher. His name is José Antonio Jurado.
My quarry headed off, and, hot on his heels, I followed him. The only problem was, he wasn't going to the class- he was going to the men's toilet.
This left me loitering in a very unsavoury way outside, waiting for him to re-emerge.
At this stage, I was almost tempted to go home, but, well, being so stingy, and having paid my 16 Euros, that wasn't going to happen. My humiliation has no price.
The before-class experience had been so awkward that the class itself was surprisingly uneventful. There were only 4 other students, two women my age, a girl of about 8, and a guy, and we were all about the same standard (pretty bad, in other words). And, by some sort of weird twist of fate, I was actually OVER-dressed- the other women were wearing leggings and T-shirts, the man and the teacher were both in trackpants, and I was the only one in flamenco gear.
For the first 45 minutes of the lesson, we did footwork and armwork, with the teacher somehow managing to:
stamp his feet;
move his arms;
click the fingers on his right hand;
count the beat aloud; and
watch us, all at the same time.
The teacher again.
Given my total lack of co-ordination, I was very impressed by this.
For the last 15 minutes, he made up a little routine, and the guitarist for the advanced class (who had arrived a bit early) accompanied us, which was really nice.
I think I will go back again next week, although I don't have any delusions about ever being able to dance like this: